CLOUD-BASED

INFRASTRUCTURE SERVICES
We provide you with the platforms and expertise you need to run your business.
1

hosting
Our team can help you host and manage your critical infrastructure with an array of wide availability and secure solutions to help control costs and meet your business goals. We offer multiple pay-as-you-go options, strategic savings plans and managed reporting.
2

migration services
Create cost savings, speed and efficiency by migrating your current infrastructure from physical locations or an inefficient cloud-based environment to Amazon AWS.
Servers (virtual or physical)
Applications
Storage
Networking & Security Policies
Databases
3

backup & disaster recovery
We can provide bulletproof strategic blueprints, plans-of-action and infrastructure to protect your data and digital properties from:
Cyberattacks / Ransomware: all companies can be targets for malicious actors.
Natural disasters: increasing frequency of storms, severe winds and extreme hot and cold weather can strongly affect power and data centers.
Human error: employee error accounts for 1/3rd of all data loss
4
cloud security services & best practices consulting
Organizations require continuous defense, detection and dynamic responses against evolving threats. We provide consulting services for:
Security, identity management & compliance tools
Crafting of cybersecurity strategy and policies
Data encryption
Data resiliency through backups
Conduct privilege audits
Hacking and malware prevention & response strategies
Password policy modernization
Multi-factor authentication (MFA) and permission
time-outs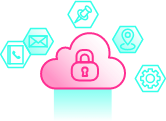 5
performance & cost optimization consulting
Gain visibility into your current cloud costs and identify wasted resources and expenses. We can help optimize your cloud capacity and costs in real time on an ongoing basis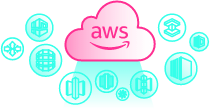 6
custom application
development

Develop, modernize or refactor key business applications
Business process applications
Marketing applications
HR applications
Payroll applications
Productivity applications
3rd party platform integrations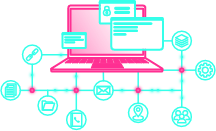 7
artificial intelligence & machine learning
We create artificial intelligence, machine learning and deep learning applications that leverage big data to optimize applications and operations:
Automation
Inventory & fleet Management
Biometrics & FaceID
Data Analytics
Create business & operations metrics/KPIs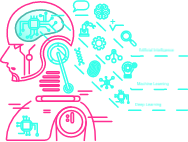 8

database
We can provide a broad selection of purpose-built databases allowing you to save, grow, and innovate faster:
Purpose-built
Performance at scale
Secure & highly available (up to five nines uptime = 99.999%)
Fully managed Solution
Licenses from most existing products/platforms can be transferred
9

aws integration
We can help formulate and build a mobile, web, or IoT application on the cloud, and finesse with added features to upgrade the performance and usability of your application through AWS integration.